| | |
| --- | --- |
| | FLOYD |
| | Converts Jetson Nano and Xavier NX into complete embedded systems |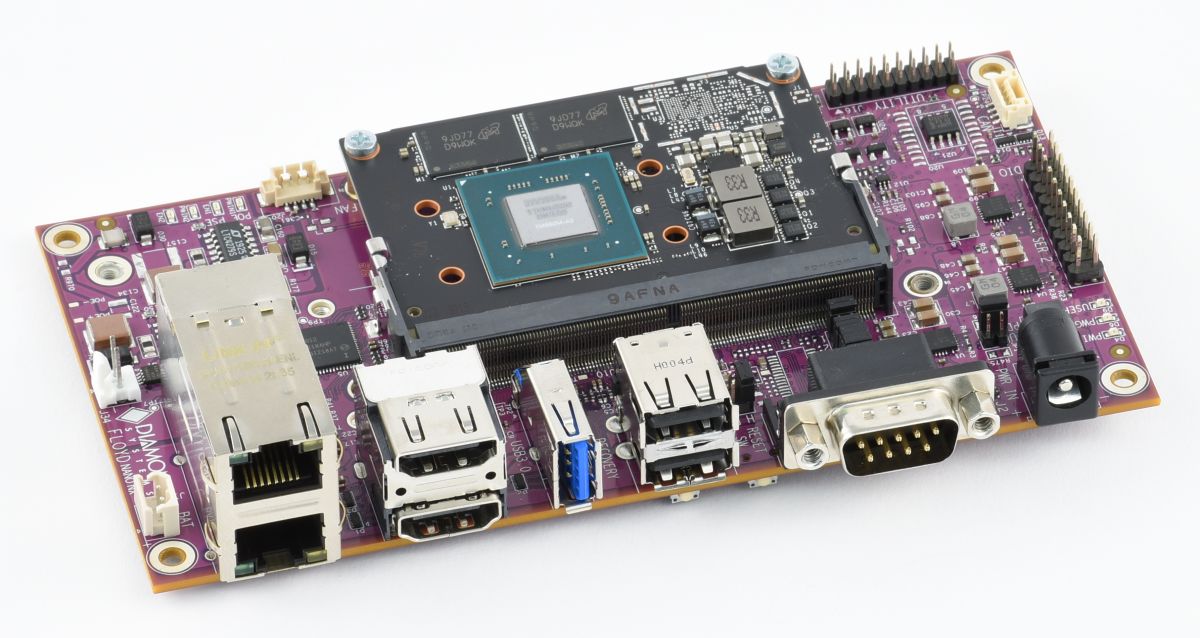 Floyd model BB01 with Nano module installed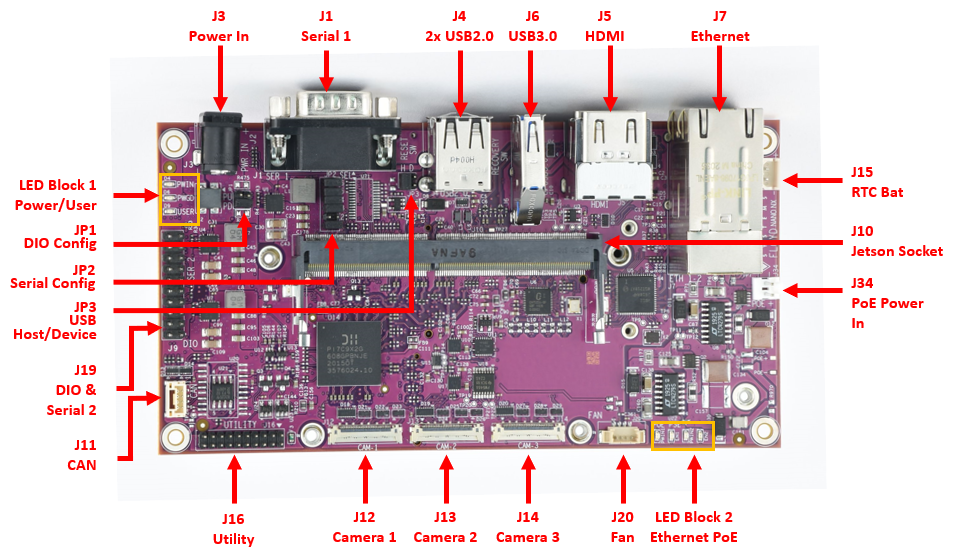 Floyd top side features
| | |
| --- | --- |
| | 1 or 2 gigabit Ethernet ports |
| | Optional PoE+ support (with external power source) |
| | 2 HDMI 2.0a/b ports |
| | 1 USB 3.0 port with type A connector |
| | 2 USB 2.0 ports with type A connector; 1 port can serve as OTG |
| | 8 GPIO with 3.3V logic levels |
| | 2 serial ports with RS-232/422/485 (depending on model) |
| | 3 dual/quad lane MIPI/CSI camera ports |
| | 1 CAN port (NX module only) |
| | 1 Mini PCIe socket with PCIe and USB support |
| | 1 M.2 2280 PCIe x1 or x4 NVME socket |
| | Size: 5.8 x 3.0" / 147 x 76mm |
| | Input voltage: 12-24VDC |
| | -25 to +80ºC operating temperature (same as Jetson Nano / NX) |
The FLOYD carrier board converts the Nvidia Jetson Nano and Xavier NX modules into complete embedded systems by providing interface circuitry, I/O connectors for all module features, camera interfaces, power supply, and additional I/O. Camera inputs include 2 PoE Gigabit Ethernet ports, 3 MIPI/CSI 2/4-lane connectors, and 1 USB 3.0 port. MiniCard, M.2, and Micro SD sockets support I/O expansion and storage. FLOYD + NVIDIA redefine possibility; the combination of Nvidia's performance/power efficiency and Diamond's I/O enables a new generation of high-compute, low-cost solutions.
Floyd's multiple camera inputs provide increased versatility for use in a wide variety of imaging applications, which make up a substantial portion all Jetson applications today. As with all Diamond products, Floyd is designed and built for reliable performance and extended operating temperature to meet the full capabilities of the Jetson modules.
With the Xavier NX module installed, Floyd offers 1 CAN 2.0B port. The standard configuration is non-isolated; isolation is available as special order.
Floyd is supported by a full Linux BSP based on Nvidia Jetpack. This software is available as a free download from our support area.
| | |
| --- | --- |
| | Carrier Board Configurations |
Floyd is available in two configurations: FLD-BB01 offers the complete suite of I/O features, while FLD-BB02 targets lower-cost applications requiring less I/O. The BB02 model also omits the PCIe switch needed for the BB01 additional I/O, thereby enabling a full PCIe x4 link to the M.2 socket for potentially higher flash memory read/write speeds.
Feature
FLD-BB01
FLD-BB02
Gigabit Ethernet
2
1
PoE
Both ports
No
HDMI
2
1
Camera CSI 4-lane
3
3
USB 3.0
1
1
USB 2.0
2
2
M.2 2280 socket
PCIe x1
PCIe x4
Minicard socket
Full size PCIe
No
SD card
Yes
Yes
GPIO 3.3V
8
8
Serial
2x RS-232/422/485
1x RS-232
1x RS-232/485
CAN 2.0
1 (NX only)
No
| | |
| --- | --- |
| | Product Configurations |
Floyd is available in four levels of integration to fit any project requirements:

| | |
| --- | --- |
| Carrier board | We provide just the carrier board. You provide the Nvidia module and packaging solution. You program the Linux OS into the module. Optional heat sink and fan sink accessories are available, see Accessories at the bottom of this page. |
| Carrier board with Jetson module installed | We install the selected Jetson module (Nano, NX, TX2 NX) and load the Linux operating system. Heat sink / fan sink accessories are available. You provide the packaging solution. |
| System kit | We provide the carrier board and the complete packaging solution. You supply and install the Jetson module, program the OS, and assemble the system. |
| Complete system | We provide the carrier board with jetson module installed and programmed, fully assembled in the JetBox enclosure, including an AC adapter, ready for operation. |
| | |
| --- | --- |
| | FLOYD Block Diagrams |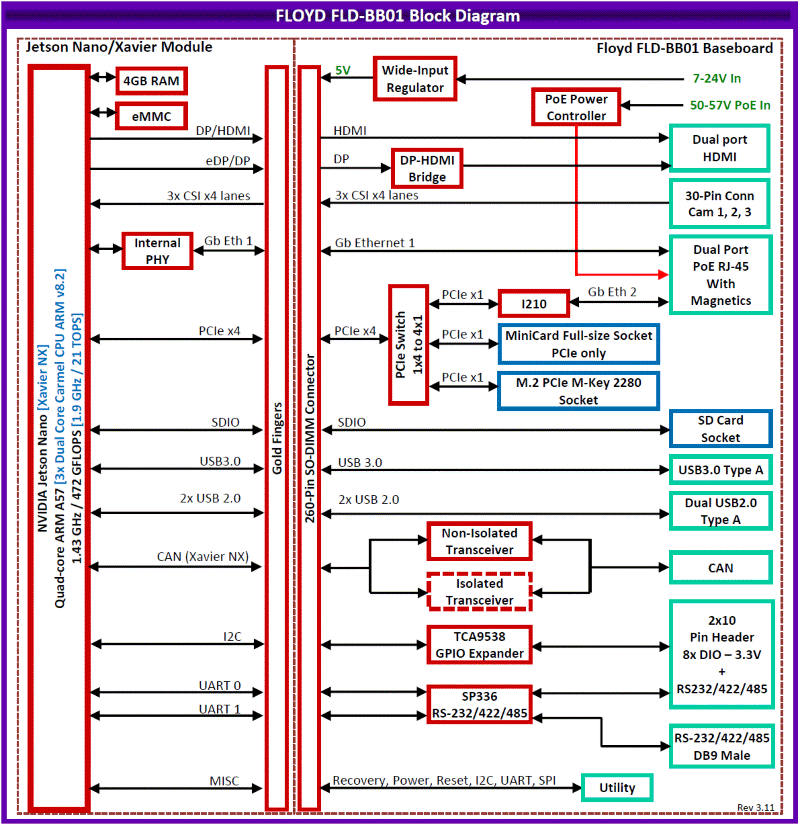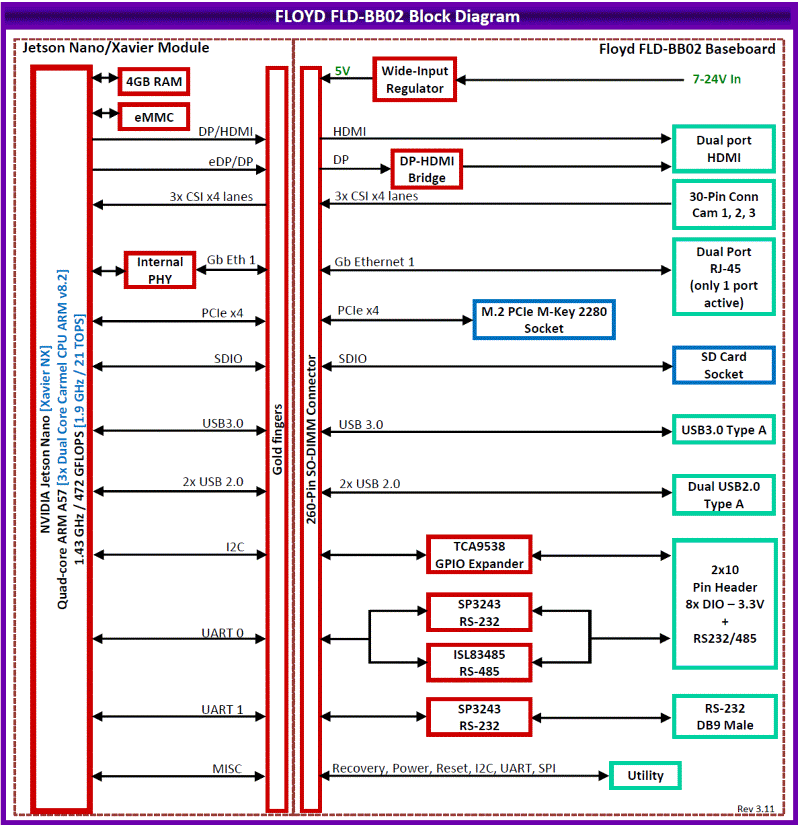 | | |
| --- | --- |
| | Floyd Features |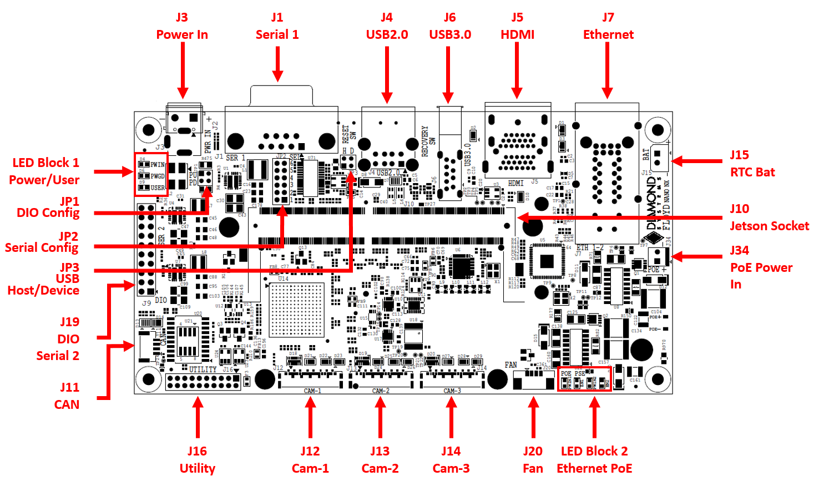 Note: Mini PCIe and M.2 2280 sockets are located on the bottom side.
| | |
| --- | --- |
| | Cables |
Several accessory cables are available for use with Floyd. The different models and Jetson modules require different cables depending on which features are available or in use in the application.
| | | |
| --- | --- | --- |
| Cable | Description | Drawing |
| 6980524 | External battery cable, discrete wires | Show |
| 6981016 | High-power input cable, 2 conductors For FLD-BB01 only | Show |
| 6981164 | Cable, IDC20F to IDC20F, 2mm pitch, 12" length | Show |
| 6981182 | CANbus 2.0 cable, JST 1x4 to DB9M For FLD-BB01 with Xavier NX module only | Show |
| C-DB9M-2 | Serial port cable, 2x DB9M to 2x10 .1" socket For GPIO and 2nd serial port | Show |
| | |
| --- | --- |
| | Models and Accessories |
| | | |
| --- | --- | --- |
| | FLOYD | |

Floyd carrier, full feature with PoE

Floyd carrier, low cost configuration

Floyd subassembly, BB01 carrier board with Nano module installed and programmed, with fan sink

Floyd subassembly, BB02 carrier board with Nano module installed and programmed, with fan sink

Floyd subassembly, BB01 carrier board with NX module installed and programmed, with fan sink

Floyd subassembly, BB02 carrier board with NX module installed and programmed, with fan sink
| | | |
| --- | --- | --- |
| | Cables and accessories | |

Floyd heat sink, 100x50mm

External battery cable, discrete wires

High-power input cable, 2 conductors For FLD-BB01 only

Cable, IDC20F to IDC20F, 2mm pitch, 12" length

CANbus 2.0 cable, JST 1x4 to DB9M For FLD-BB01 with Xavier NX module only

Serial port cable, 2x DB9M to 2x10 .1" socket For GPIO and 2nd serial port