Products
>
Ethernet Switches
| | | |
| --- | --- | --- |
| | Featured Products | |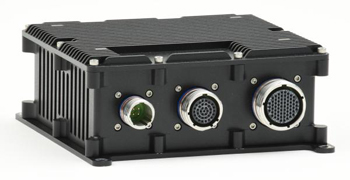 SabreNet Rugged System
Ethernet Switches
Diamond offers a variety of rugged, small form factor, managed Layer 2+ Ethernet switches with features that support a breadth of applications.  Diamond Ethernet switches support transportation, medical, aerospace and defense and other applications found in the harshest environments. All I/O connectors on the switches are latching, providing enhanced reliability over the RJ-45 connectors used in commercial Ethernet switches. A 50% thicker PCB provides better protection against vibration in vehicle environments. The -40ºC to +85ºC operating range makes DSC Ethernet switches suitable for use in outdoor and vehicle applications.
Diamond's Ethernet switches are standalone and do not require any host computer interface. All switch functions are managed by a microprocessor embedded directly into the switch. The processor is accessed via an in-band web interface over one of the Ethernet ports or via an out-of-band command-line interface over an RS-232 serial port. The integrated web interface provides an intuitive GUI for use in configuring and managing all switch functionality. On-board memory holds dual application images, boot code, MAC addresses, and other parameters, and can also be used for program execution.
Diamond Systems' innovative Ethernet switch boards include automatic power savings via two unique features. The switches can detect unused Ethernet ports on network devices and power them down or place them in stand-by mode. Additionally, the switch actively adjusts the power level needed based on cable length, saving energy on links shorter than the 100m maximum specified length. Input power is provided through the built-in, wide-range power supply, enabling operation using industrial power sources.
Model
Description
Copper Ports
Fiber Ports
Form Factor
Dimensions
EPS-24016-104
Layer 2+ managed 16-Port single board copper
Gigabit Ethernet switch
16
PC/104
90mm x 96mm
EPS-24026-104
Layer 2+ managed 26-Port Gigabit Ethernet switch
which offers both copper and optical interfaces
24
2
1G/2.5G
PC/104
90mm x 96mm
EPS-8100
Layer 2+ managed 8-Port Gigabit Ethernet switch
8
PC/104
90mm x 96mm
Epsilon-12G2
Layer 2+ managed 12-Port Gigabit Ethernet Switch
12
2
1G/2.5G
COM Express
95mm x 125mm
Epsilon-12G1
Layer 2+ managed 12-Port Gigabit Ethernet Switch
12
1
1G/2.5G
COM Express
95mm x 125mm
Epsilon-12G0
Layer 2+ managed 12-Port Gigabit Ethernet Switch
12
COM Express
95mm x 125mm
EPSM-10GX
Layer 2+ managed 26-Port Gigabit Ethernet switch module
24
2 10G
COM Express Mini
84mm x 55mm
EPS-24G2X
Layer 2+ managed 26-Port Gigabit Ethernet Switch
24
2 10G
3.5 inch
4.00 x 5.75"
EPS-12000-CM
Layer 2+ managed 12-Port Gigabit Ethernet Switch
12
COM Express Mini
84mm x 55mm
PC/104
COM Express

EPS-24G2X

Managed 26-Port Gigabit Ethernet Switch with 24 1G copper ports and 2 10G SFP+ Ports

COM Express Mini

EPSM-10GX

Ultra-Compact Managed 26-Port Gigabit Ethernet Switch Module