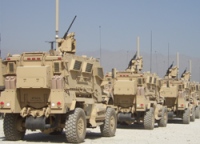 A European military equipment manufacturer currently provides a weapons station control system for the U.S. Army's vehicle program. The weapons station is used to control a gunnery system from inside a moving military vehicle, which can often be traveling over rough terrain. Ease of use, high accuracy and precision, and operation in extremely harsh environments are critical performance factors of the control system.

The equipment manufacturer selected a custom variation of Diamond Systems' Athena II PC/104 single board computer (SBC) as the control processor for the weapons station. The gunnery system required an SBC that was small in size, and offered full analog I/O, digital I/O, serial I/O with calibration accuracy, and a graphical display interface.

While considering the Athena II SBC solution, some custom development requirements became apparent, primarily with regard to ruggedness. Since the vehicles see action in environments with water, sand, and high temperatures, the customer took advantage of Diamond's ruggedization program by conformally coating the SBC and integrated flash disk, which contained the customer's bootable VxWorks image. This added extra protection in the extremely harsh operating environment.

The gunnery system also is exposed to a relatively large amount shock and vibration. Therefore the custom Athena II was required to pass MIL-STD-810 vibration standards. To successfully pass the MIL-STD-810E 514.4 vibration specification, Diamond replaced all standard connectors with latching connectors that had increased contact plating. In addition, the PC/104 connector, due to potential vibration wear between the mated contacts, was replaced by a high reliability MIL style connector. Also, all of the jumpers were replaced with soldered zero Ohm resistors to eliminate any possible dislodging of the jumpers due to vibration or misapplication. Finally, to counteract the effects of extreme vibration over and above that of the MIL-STD-810 vibration specification, all of the BGA chips were under filled to eliminate any solder bond cracking between the board and the BGA lands.

In order to assure consistent and reliable thermal management in this rugged, high vibration environment, Diamond worked with the customer to create a custom heatsink that would equalize vibration resistance utilizing several legs positioned about the PCB with a thermal contact pad to eliminate the effects of shock vibration from being transferred from the heatsink to the BGA.

With these ruggedization changes made, the custom Athena II successfully passed all of the higher vibration test requirements.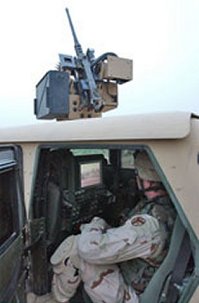 Since the gunnery system included a special "high light" display for maximum visibility day or night, Diamond wrote and incorporated special BIOS code to enable perfect performance with the display.

This application was a successful migration from Diamond's Athena to Athena II single board computer where minimal regression testing was necessary to validate the Athena II SBC as an easy migration path from Athena. This is also an example of how Diamond Systems' customization program can benefit our customer's broad spectrum of application challenges, resulting in a perfect-fit solution.

Click here to return to the main article list.