Neptune EPIC SBC

View Datasheet


EPIC Form-Factor Embedded-Ready Subsystem with Integrated Data Acquisition and Configurable CPU




Neptune introduces a new concept in small form-factor embedded-ready subsystems.

Neptune SBC Side View
Neptune's CPU core consists of an ETX module mounted its bottom side, an approach that improves thermal management and increases the space for I/O functions and connections. By utilizing conduction cooling, Neptune features improved ruggedness and reliability through the use of a heatspreader. This innovative design has enabled Neptune to integrate CPU, system I/O, industry-leading data acquisition, both 10/100Mbps and gigabit Ethernet, and a wide-input DC/DC power supply within the compact and modularly expandable EPIC single-board computer (SBC) form-factor.
Choice of CPUs
1.6GHz Intel Atom N270
1.66GHz Intel Core Duo LV
Thanks to Neptune's flexible architecture, you can select from a wide range of ETX-based CPUs to meet each application's specific performance, power, and cost requirements. Available processors include Intel's Atom, Celeron, Core Duo, and Core2D uo -- in both LV and ULV technologies. A choice of ETX COMs offers scalable performance for your application as well as protection from obsolescence through plug compatible CPU modules.
What's more, Neptune's on-board PC/104-Plus expansion socket facilitates the addition of custom or off-the-shelf ISA and PCI interfaced add-on modules, helping you satisfy your application's precise requirements.
Benefits of 6-in-1 Integration
Less Space: Smaller and thinner than a stack of PC/104 boards

Lower Cost: An integrated solution eliminates extra PCBs and connectors to lower the unit cost

Higher Reliability: Less interconnects and components, resulting in higher reliability

More Rugged: The flatter profile and reduction in connectors makes Neptune far more rugged in mobile applications

Single Vendor: Purchasing and stocking are easier with a single board

Saves Time: Assembly effort is dramatically reduced, shortening your total system integration time


Reduces a stack of 6 PC/104 I/O modules into one Single Board Computer


System I/O Features
All models of Neptune include the following standard system I/O features:
Serial Ports

2 RS-232, 4 RS-232/422/485

USB Ports

4 USB 2.0 ports

Keyboard and Mouse

PS/2 ports for keyboard and mouse; USB keyboard and mouse also supported

Ethernet

1 10/100Mbps port from ETX module (*); 1 gigabit Ethernet (Intel 82541) with on-board RJ-45 jack

Parallel/Floppy Port

Shared interface (defaults to parallel)

Audio

AC'97 (Mic in, Line in, Line out)

IDE Interface

1 IDE port; support 2 drives *

SATA Interface

2 SATA ports; support 1 drive each *

CompactFlash

Socket for Type I/II device

Graphics

VGA and LVDS *
* These features depend on ETX module.
Industry-Leading Data Acquisition Subsystem
In addition to its comprehensive embedded-PC system core, Neptune also optionally integrates Diamond's industry-leading data acquisition I/O subsystem and DC/DC power supply, featuring:
32 16-bit analog inputs with 250KHz sample rate
4 12-bit analog outputs
24 digital I/O lines, 3.3V/5V compatible
8 opto-isolated digital inputs, 3-24V range
8 opto-isolated digital outputs, 3-24V range
2 counter/timers for A/D sample rate control, event counting/timing, and programmable interrupts
To simplify the task of putting this advanced data acquisition functionality to work in real-world applications Neptune comes with Diamond's Universal Driver software for C programming under Linux, Windows XP, Windows CE, and DOS.
Benefits of an ETX Processor Core
Choice of price/performance: Neptune is available with a range of CPUs, from a low-power Intel Atom N270 up to a high-performance Core2Duo, so you can obtain exactly the performance and cost required
Protection from obsolescence: Easily switch processor modules in case of processor end of life
Easy upgrade: ETX CPUs are interchangeable, allowing you to easily upgrade your system with minimal or no redesign
Low Cost: ETX modules cost less than their equivalent SBC, resulting in a lower total cost for Neptune
Autocalibration for Best Measurement Accuracy
Diamond's top-performing autocalibration circuitry lets you calibrate the analog circuits under software control at any time, maintaining best accuracy despite varying conditions. Temperature- and time-dependent measurement drift is eliminated, since the system can be calibrated as often as desired in just a few seconds, to ensure accurate readings in all environmental conditions.
Thermal Management
Neptune's ETX processor module is located on its bottom side. An integrated heatspreader makes thermal contact with the heat generating components and provides a flat surface on the bottom of the assembly for mating to the system enclosure. This technique facilitates efficient removal of heat from the CPU without the need for a fan. Four mounting holes on the bottom of the conduction cooled heatspreader are provided to mount Neptune in an enclosure or to a bulkhead. These mounting holes are #6-32 threaded holes on 2.8" centers.
Operating System Support
Standard:

Windows XP; Linux 2.6

Optional upon request:

Windows XPe/CE; VxWorks; QNX
---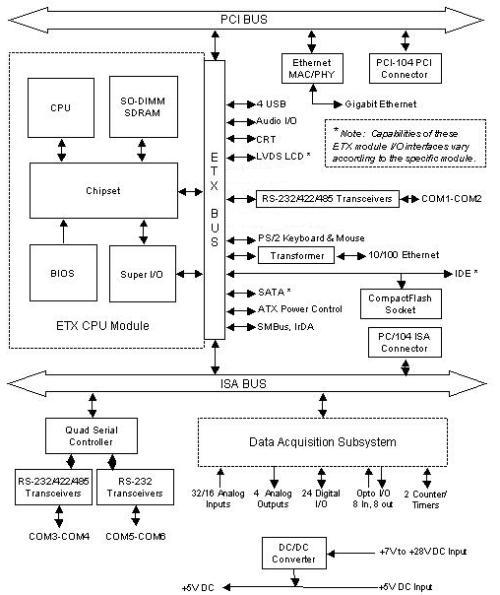 Click on the image to enlarge
---
Development Kits
A quick-start development kit includes everything you need to get started with your application development, including:
Neptune computer with integrated ETX CPU
1GB memory installed
Heatspreader installed
512MB Flashdisk with Linux
Panel I/O Board
Cable Kit
CD containing User Manual and Support Software
Quick Start Guide
Memory
Neptune uses SO-DIMM modules (located on the ETX CPU module) with capacities ranging from 1GB to 2GB depending on the choice of ETX CPU module.
Panel I/O Board
This accessory plugs onto the front row of pin headers to provide cable-free access to the standard system I/O: Serial ports, USB, Ethernet, PS/2, VGA, Power input.
| | |
| --- | --- |
| | |
| Neptune panel I/O board | Neptune with panel I/O board attached |
Neptune Cable Kit
This comprehensive cable kit provides access to all I/O features on Neptune, including the features on the panel I/O board.
| | | | |
| --- | --- | --- | --- |
| No. | Qty. | Cable | Description |
| 1 | 2 | 6981004 | IDE, 44 conductor 2mm ribbon cable |
| 2 | 1 | 6981006 | Power output cable |
| 4 | 1 | 6981072 | Analog I/O, 2mm IDC40 to 2mm IDC40 |
| 5 | 1 | 6981073 | Digital I/O, 2mm IDC34 to 2mm IDC34 |
| 6 | 1 | 6981080 | Ethernet, 2mm 2x5 crimp to RJ-45 socket |
| 7 | 3 | 6981081 | Dual Serial Port 2mm 2x10 to 2x DB9M |
| 8 | 2 | 6981082 | Dual USB, 2mm 2x5 to Dual USB |
| 9 | 1 | 6981083 | Keyboard/Mouse, 2mm 2x4 crimp to 2x Mini-DIN-6 |
| 10 | 1 | 6981084 | VGA, 2mm 2x5 crimp to DD15F |
| 11 | 1 | 6981085 | Audio I/O, 2mm 2x5 crimp to 3x 3.5mm jack |
| 12 | 1 | 6981088 | Utilities, 2mm 2x4 crimp to flying leads |
| 13 | 1 | 6981090 | Power input, 2x4 high power to flying leads |
| 14 | 1 | 6981091 | Power input ATX, 2x4 high power to ATX 2x10 |
| 15 | 1 | 6981141 | CRIMP40-IDC40F, 2mm, 12" Opto I/O |
| 18 | 1 | 6981144 | Variable power input |



Neptune Cable Kit
---
CPU OPTIONS

Intel Atom N270 at 1.6GHz

-20°C to +71°C or -40°C to +85°C operating temperature

Intel Core Duo LV at 1.66GHz

-40°C to +85°C operating temperature

Intel Celeron M ULV at 1.06GHz **

-40°C to +85°C operating temperature

Intel Core Duo ULV at 1.2GHz **

-40°C to +85°C operating temperature

Intel Core 2 Duo ULV at 1.06GHz **

-40°C to +85°C operating temperature

Intel Core 2 Duo LV at 1.5GHz **

-40°C to +85°C operating temperature

SYSTEM RAM

SO-DIMM

Supports up to 2GB DDR2 SDRAM

SYSTEM I/O

Display

VGA, LVDS, LCD backlight control *

USB Ports

4 USB 2.0 ports

Serial Ports

2 RS-232 only; 4 RS-232/422/485

Ethernet

1 Gigabit; 1 10/100Mbps

Mass Storage

1 or 2 IDE ports; 2 SATA ports *

Keyboard / Mouse

PS/2; USB peripherals also supported

Audio

AC '97 (line-in, line-Out, mic)

Expansion Bus

PC/104-Plus (ISA and PCI buses)

DATA ACQUISITION I/O

A-to-D Converter

32 16-bit inputs; 250KHz sample rate

D-to-A Converter

4 12-bit outputs

Digital I/O

24 digital I/O lines; 3.3V/5V compatible

Optoisolated DIO

8 inputs and 8 outputs; 3-24V range

Counter/Timers

2 programmable counter timers

Software Drivers

C source code for Windows and Linux

General

Power Input

5VDC +/-5% or 40W 8-28V DC-to-DC power supply

Power Consumption

NPT-N270xx-1GA5: 10.3W idle, 14.2W heavily loaded
NPT-945CDL-1GA: 14.2W idle, 23.5W heavily loaded

Operating Temperature

NPT-N270RK-xGAy: -20ºC to +71ºC
All other models: -40ºC to +85ºC

Operating Humidity

0 ~ 90% (non-condensing)

Dimensions (L x W X H)

NPT-N270xx-xGAy: 4.5 x 6.5 x 1.77 in. (114 x 165 x 32 mm)
NPT-945CDL-xGA: 4.5 x 6.5 x 2.24 in. (114 x 165 x 45 mm)
Weight
(with SO-DIMM module)
NPT-N270xx-xGAy: 14.6oz (414g)
NPT-945CDL-xGA: 22oz (624g)

RoHS

Compliant
Notes to Specifications:
* These functions depend on specific ETX CPU module
** These CPUs are available by special order only